Who we are
We are a Munich-based, leading edge engineering company focused on software defined networking.
We are a highly specialized team with a focus on hardware design, offering turnkey solutions for research institutes and universities.
InnoRoute is a certified partner in EU, German, and Bavarian funding projects like Charisma and SelfNet. InnoRoute was awarded the seal of excellence of the European Union and received an EU Innovation Award for its SME Instruments project "TrustNode".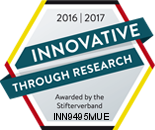 Also, you can find more details about our mission here: